Details

Stephan Matthiesen

2008-10-02
Yesterday I was elected Chairman of the Edinburgh and South East Scotland Branch of the British Association for the Advancement of Science. It is a great honour to fill this post in an organisation with such a long and fruitful tradition, and I am looking forward to my new responsibilities and activities.
The British Association for the Advancement of Science is a UK wide association of volunteers promoting the public understanding of science. Since 1831, the Association has organised talks, debates and science festivals throughout Britain. I haven't been in the Association for quite as long as that, but I have been an active member of the committee of the Edinburgh and South East Scotland Branch since 2007 and have, e.g., coordinated the polar weekend in March.
Yesterday, on the 1 October 2008, we held the AGM with the election of the new committee and office bearers. I was elected Chairman of the Edinburgh Branch. Nigel Over brings his long-term experience to the post of the Branch Secretary for Committee/Membership and Julia Kennedy with her enthusiasm fills the post of of Branch Secretary for Events. Jane Ilsley remains co-opted as Treasurer.
Together we are already working on a number of event ideas. We will continue the established work of the British Association and fill it with new ideas and new concepts in Edinburgh, contributing with a diverse programme of events to the public debate about scientific issues.
In some meetings, it would have been rude that some were slouching in their seats, following the election with seemingly bored and derisive expressions, pulling faces and scratching themselves everywhere. Not in this case, as the meeting took place in the new primate centre at Edinburgh Zoo - where the meeting room hangs like a glass cage between the chimpanzees who were just getting ready for the night in their tree nests.
The AGM was followed by an information evening about the primate centre for the members and supporters of the British Association for the Advancement of Science. The Zoo does not only have the traditional role of displaying exotic species to the people. Instead, Edinburgh Zoo with its modern primate centre is also a research facility where chimpanzees, Capuchin Monkeys and squirrel monkeys can be observed. In cooperation with universities, behavioural studies in a natural environment, but with well controlled methodology, are possible. Furthermore, the Zoo cooperates with facilities all around the world that are working on protecting the natural habitats of primates - because all primates are threatened with extinction, except for humans.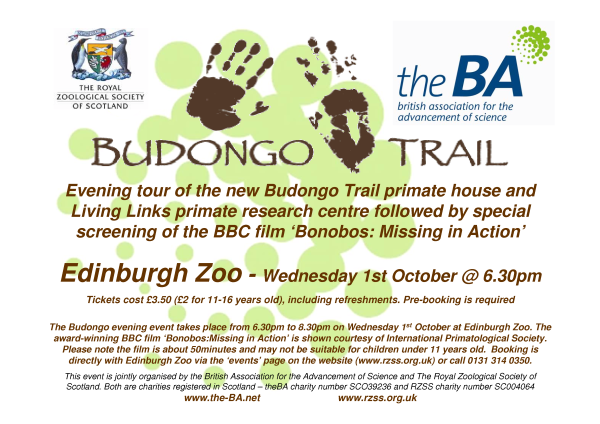 Poster for the information evening; there is also a PDF (276kb) for printing and distribution.
Last Updated:

Thursday, 11 October 2012