Stephan Matthiesen
Hello and welcome!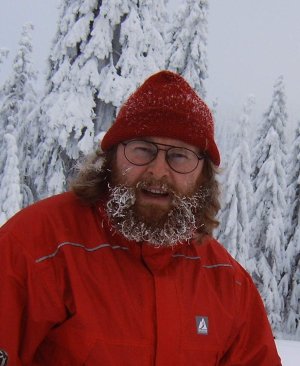 Stephan in winter habit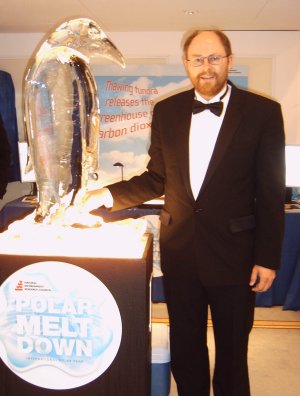 Stephan in summer habit, with a penguin (left, made of ice)
I am a physicist with research interests in geoscience.
I work at the School of GeoSciences (University of Edinburgh) as programme manager for the Greenhouse Gas Emissions and Feedback Programme. It aims to deliver better estimates of the greenhouse gas emissions over Britain and the North Atlantic region in a global context and understand the relevant processes better.
I'm also involved in EarthTemp, a network to stimulate new international collaborations between researchers who measure the surface temperatures of Earth.
My tasks as programme and project manager include the general planning and coordination of the projects, the data management and the communication of our research to the wider community and the general public.
Communicating and creating dialogue about scientific results and methods with general, non-specialist audiences is one of my main interests. Therefore my second professional basis is my work as a freelance Editor, Translator and Author — more information can be found at Science Texts.
On Wednesday, 18 October 2017, I will give a presentation at the Society Society for Natural History (NHG) in Nuremberg on the Crisis of the civilisations in Antiquity around the 22nd century AD. At this time, the Old Kongdom and the Akkad Empire collapsed. Climatological data show a drought that affected manz parts of the World from North Africa to India and China. What happened to the climate, and how did it affect civilisations?
The presentation is in German and will start at 19.30 in the Katharinensaal of Nuremberg's City Library, Am Katharinenkloster 6.
On Saturday, 7 November, an information day will be held in Nuremberg, Germany, about the forthcoming UN Climate Change Conference in Paris. I contribute with a presentation about the scientific background, and will take part in a panel discussion. The event takes place from 14.00 in the Künstlerhaus Nürnberg.
Poster (PDF, 3Mb)
We are organising a summer school on 16-23 August 2015, aimed at advanced PhD students and post-doctoral researchers in the natural sciences who want to develop a solid understanding of the role of key greenhouse gases (GHGs) in the Earth system and the processes that govern their dynamics in the atmosphere, ocean and biosphere.
The residential course for 20-25 participants will be based at the University of Edinburgh and comprises a combination of lectures, practical exercise, seminars and field/lab work, organised by international experts in oceanography, atmospheric science and terrestrial biogeochemistry,
More details can be found on the website of the Greenhouse Gas Emissions and Feedback Programme.